An elegant and charming facility for your Bridal Shower!
Fairways offers an elegant and charming facility for your Bridal Shower with vaulted ceilings, an old world charm motif and a unique fieldstone fireplace. We also pride our selves on our meticulously trained staff; from our highly trained chefs, enthusiastic coordinators and professional wait staff assuring a superior experience for you and all your guests. Select from the links below to learn about our shower packages and services.
Fairways Shower Breakfast Buffet
served with:
Fresh Fruit Display Fresh Baked Pastries Fresh Baked Bagels Scrambled Eggs Bacon & Sausage Breakfast Potatoes Sliced Ham (add $1.00pp) Belgian Waffles with fresh Whipped cream and Strawberries
served with:
Fresh Brewed Coffee Decaffeinated Coffee
Fresh Brewed Tea Assorted Fresh Fruit Juice
$22 .95 per person
Omelet Station
(select one)
Fresh omelets prepared to order with choice of ham, sweet bell pepper, mushrooms, tomatoes, Spanish onions and cheddar cheese. Additional $4 .95pp
Luncheon Items
(select two)
Thinly Sliced Prime Rib with Au jus Linguine with Garlic Clam Sauce Three Cheese Blend Macaroni & Cheeses Chicken, Broccoli & Ziti (olive oil or alfredo style) Classic Caesar Salad with Grilled Chicken Penne Chicken Aribiatta Shrimp Scampi over Linguini (add $1.95pp) Additional $5.95pp
Floating Mimosa's & Bloody Mary's available at an additional cost.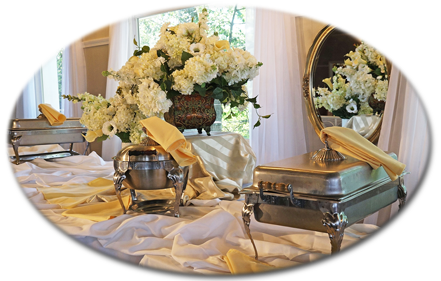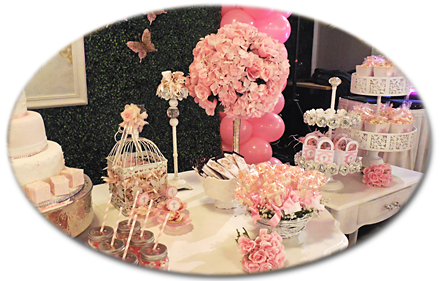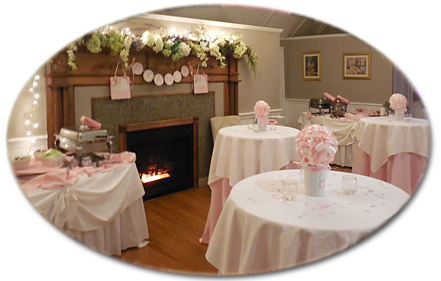 The Fairways Buffet Shower Packages
Dinner Buffet
Salad
(select one)
Antipasto (add $ 1.95 per person) Classic Caesar Garden Green Tossed Salad Spinach Salad with warm Pine nut Dressing
Dinner
(select two)
Chicken Mushroom Marsala Chicken Cacciatore Chicken Lemonne Chicken with Sicilian Tomato Sauce Veal Piccata Veal Marsala Seafood Newburg Italian Meatballs with Marinara Sauce Sweet Sausage with onions & peppers
$29.95 per person
Starch
(select one)
Garlic Mashed Potatoes Fettuccini with Alfredo Sauce Roasted Red Bliss Potatoes Rice Pilaf
Vegetable
(select one)
Baked Squash with Herb Crumb Topping Vegetable Ratatouille Green Beans Almondine
Luncheon Buffet
Salad
(select one)
Classic Caesar Garden Green Tossed Salad California Baby Field Green Salad
Lunch
(select two)
Grilled Barbeque Chicken Roasted Tendershoulder of Beef (add $2.00 per person) Teriyaki Steak Tips(add $2.00 per person) Lemon Baked Scrod Chicken Marsala
$27 .95 per person
Starch
(select one)
Mashed Potatoes Roasted Red Bliss Potatoes Rice Pilaf
Vegetable
(select one)
Sauteed Vegetable Medley Glazed Baby Carrots Green Beans Almondine
(NOTE: Luncheon buffet available before 3 o'clock)
Fairways Cocktail Shower Package
Hors D'oeuvres
International Cheese & Cracker Display
(select one)
Assorted imported cheeses and melon Wedges beautifully designed around a decoratively arranged mirror with strawberries, grapes and pineapples; served with assorted crackers
Vegetable Crudite Display
(select one)
An assortment of fresh vegetable crudités with creamy vegetable dip
Hot Hors D'oeuvres
(select three)
Cocktail Meatballs Bacon and Scallops Herb Stuffed Mushroom Caps Beef Teriyaki Spinach & Cheese Filo Chicken Satay Italian Sausage Bruschetta Vegetable Spring Rolls Assorted Mini Quiche
Cocktail Stations
Pasta Station (select three)
Lobster Ravioli with Tarragon, Gorgonzola - Cream Sauce (add $2.50pp) Toasted Ravioli with Marinara Sauce Tri- colored Tortellini with Roasted Garlic Marinara Sauce Ricotta Ravioli with Pesto Sauce Fettuccine with Alfredo Sauce Penne Pasta with Meat Sauce Fresh Fussilli with Creamy Pesto Bowtie Pasta with Marinara Sauce add chicken $1.95, shrimp $3.95 or lobster market price
Carving Station (select one)
Roasted Turkey Honey Glazed Baked Ham Maple Glazed Stuffed Pork Loin Roasted Tender Shoulder of Beef (add $2.00 per person)
$34.95 per person
The Fairways Bridal Shower Tea
Specialty Breads
Assorted specialty Breads including Banana, Cranberry, Lemon Poppy Seed
Salad Station
Seasonal Fresh Fruit Display Chicken Caesar Salad Bowtie Pasta Salad with Julienne Vegetables
Tea Sandwiches
Roasted Turkey with Swiss Cheese on Knotted Rolls Roasted Roast Beef with American Cheese on Knotted Rolls
Finger Sandwiches
Tuna, Seafood and Chicken Salad pickle tray and condiments
Includes Coffee and Tea
warm rolls and butter
$28 .95 per person
The Fairways Sweet Tables
Create Your Own Sweet Table
(Per 100 pieces)
Strawberries dipped in chocolate $300 .00 Assorted Mini Pastries $225.00 Assorted Homemade Cookies $85.00 Full Sheet Cake (chocolate, white or marble) $125 .00 Cupcakes (chocolate, white & marble) $3.50 per cupcake Fresh Brewed Coffee and Tea $1.00 per person
Cake Sweet Table
Assorted cakes including German Chocolate Cake, Carrot Cake, Strawberry Amaretto Cake, Tiramisu Cake and many more… Served with fresh brewed coffee and flavored tea $8.95 per person
Ice Cream Sundae Station
Two Flavors of Premium Ice Cream ( Vanilla, Chocolate, Strawberry, Chocolate Chip, coffee) served with Chocolate & Strawberry Sauce along with Fresh Whip Cream Served with fresh brewed coffee and flavored teas $5.95 per person
Viennese Sweet Table
Assorted mini pastries, assorted cookies, and chocolate dipped fruit served with fresh brewed coffee and flavored teas $ 7.95 per person
Grand Extravaganza Sweet Table
Italian mini pastries, chocolate mousse cups, chocolate dipped fruit, chocolate ice cream truffles, fruit tartlets, assorted cakes, assorted tortes Surrounding a fresh fruit display Served with fresh brewed coffee and flavored teas $10 .95 per person
General Information
Hall Rental
The Hall Rental is included in the price of the shower packages. It is normally a rate of $375.00 with banquet package. Confetti is not allowed or a $200.00 clean up fee will be attached to the final invoice.
Minimum Required
In order to insure a successful function; please notify the function manager 10 days prior to your function with a guaranteed minimum count. You will be charged for the minimum guaranteed even if the actual attendance is less. We will accept an additional count up to 5% above the guaranteed count 48 hours prior to the function. A minimum guarantee of 40 persons is required for the banquet package.
Deposit
A non-refundable non- transferable deposit of $500.00 is required upon signing the contract for all functions. This deposit will confirm/hold the date of your function.
Liquor and Food Policy
Due to insurance regulations, no food or beverage of any kind will be permitted to be brought on to the premises by the patron or any of his or her guests. For the same reason no food or beverage may be taken from the premises. The Fairways reserves the right to limit and control the amount of alcohol beverages consumed by all guests. Open bar will be priced on a consumption basis utilizing a running tab. Open bars will only be offered for up to four hours. An 18% gratuity will be added to all open bar tabs. Drink pricing will be furnished upon request.
Smoking Policy
For your guest convenience, we do provide several areas for them to smoke. There is no smoking in the building.
Security
The Fairways at Woburn Country Club shall not be responsible for the damage or loss of any merchandise or articles left on the premises prior to or following any function.
Prices
All prices are subject to change without notice. Prices may be confirmed 30 days prior to event.
Linens
Ivory or white linen with choice of napkin color is included in all menu prices. Special linen requests are available at an extra charge.
Fees and Taxes
An administrative fee of 18% will be added to all food and beverage items. A sales tax of 7.00 % will be added to your final bill, due to Massachusetts's sales tax regulations
We gladly accept: